FAQ Page

Guest Book
Natasha Pages:


About Natasha


Natasha Pictures


How Could You?


Doggie Dictionary


Camping With Your Dog

Camp Site Pages:


Our Trips


Fort Wilderness


DC Camping
Camper Pages:


Our Camper


Tow Vehicle


Site Statistics
Modification & Service:


Detachable Power Cable


Modified Drawers


Mirror


Single Drain System


Drill Lift System


LED Light System


Accumulator Tank


Florescent Light


Bike Rack


Outside Shower


Batteries in a PU


Bed End Tray


Battery Charge Cable


Stove Counter


AC Brace


WH Wind Guard


RV Plug @ Home


Awning Base


12v Power Adaptor


Battery Meter


Water Level Indicator


Tongue Jack Service


Our Bunk

Information:


Camping With Your Dog


Camping Checklist


Dry Camping


Pop Up Brakes


Break Away Switch


Campsite Safety


Towing & Hitch Info


Sway Information


Gray Water


Porta Potti


RV Air Conditioning


Pop Up Tires


Changing a Flat Tire


Pop Up Refrigerator


Camp Site Power


Trailer Dolly


Folding Camp Table


Awning Base


Level Your PopUp


Winterize Your PopUp


Spring Set Up


Camp Cooking Accessories


Buying a Used PopUp


Message Board Shorthand
Camping Links:


PopUpTimes


Camping Links


Camping Club Links


Manufacturer Links
GSD Links:


MidAtlantic GS Rescue


GS Rescue of LA


Virginia GS Rescue


Flying Dog Press
2006 Fleetwood Folding Trailer Niagara

Well, I stopped by Peco Campers in Tucker, GA (a suburb of Atlanta) today to check out the 2006 Niagara. I must admit, I was impressed. Some of the changes I noted:
Larger Refrigerator

Residential style toilet with 9 gallon black water tank

Plumbing system is now connected together and dumps out the back

Plumbing system is vented through the roof.

One wall of the fold up shower/toilet is now a full mirror

New colors and patterns on the fabric
| | |
| --- | --- |
| | Residential height toilet. If you look closely you will notice that it is raised on a small pedestal. That is a 9 gallon black water tank. |
| | The entire gray water plumbing system has been redesigned. Both the sink and the shower drains are connected together and discharge via a standard 3 inch RV connection. To the left of the discharge you will see the valve for dumping the black water tank. |
| | On my first pass around the camper I missed this small vent on the side of the roof. The plumbing system is now vented to this location to allow water to drain properly. All plumbing pipes are now a minimum of 1 1/2". |
| | This is the side wall directly below the roof vent. If you look closely you can see that the wall bulges out just a little. There is actually a 1 1/2" flex hose running up the side of the tenting to the roof vent. |
The floor plan is the same except the cassette has become the residential toilet. To the right of the door into the shower/toilet you now have a full length mirror. While it is still plastic, it is straight and does not distort like the mirror in the vanity mate. A towel bar and toilet tissue holder are now inside the shower area. The refrigerator has increased from a 3 cu ft to a 3.7 cu ft.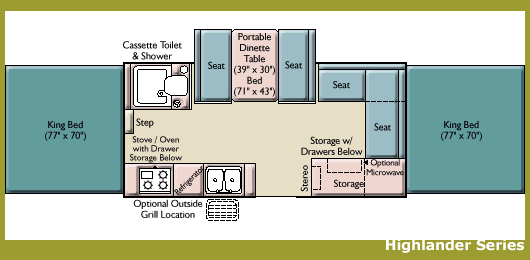 As many people have said, it is the dealer that counts when making a pop up purchase. Peco is one of those dealers! The new Niagara is priced as $12,995 including Group 24 battery, AM/FM Stereo, Microwave oven and gas oven.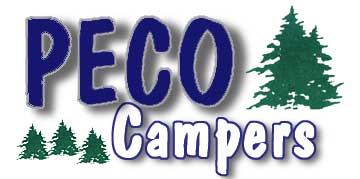 Details:
Revised: May 08, 2007